Grassland Habitat and Ecology Conservation Proposal
Grassland Habitat and Ecology Conservation Bio-Reserve – Proposal, Patdi, Gujarat, India
By Yash Chhaya, Director

Arid and dry region grassland habitat in Little Runn of Kutch.
Introduction
Vast stretches of grassy plains called VIDI in Saurashtra region is the last home of the fast vanishing bird and small mammals of the open grassland habitat and semi-arid regions. A ground birds much confined to the Indian sub continent now has very limited available habitat.
Current key threats and dangers are: Habitat loss, modification and fragmentation as a result of widespread agricultural development and land-use pattern changes including the un-controlled livestock grazing have created tremendous pressure on the existing grassland. As per the survey, most of the original grassland in the western States of India has reduced in size by Seventy percent in last fifty years (BNHS Report.2008).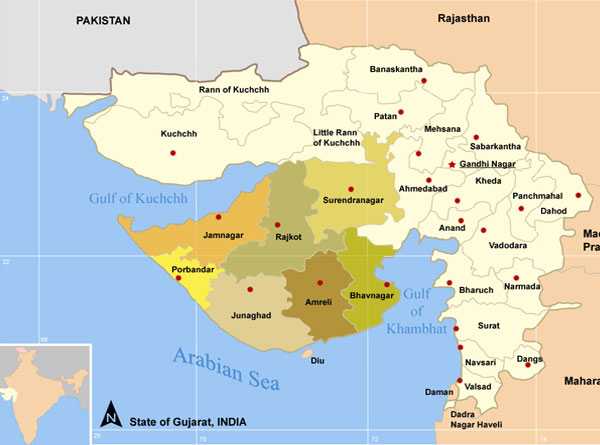 Saurashtra region
Objective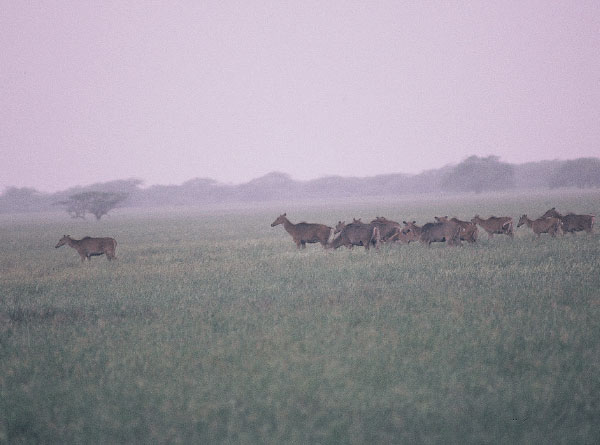 Protected grassland in monsoon season
The Patdi grassland has great potentials and can be pristine habitat left without disturbance in the district. The area is the last stronghold of Lesser Florican, Desert Fox and other endangered species such as Indian Wolf, Indian gazelle or Chinkara antelope, Partridges and MacQueen's or Houbara Bustard a rare winter visitor.
During the winter months hundred of migratory cranes and birds of prey visit such habitat for their winter hideout. The cotton farming and the industrial growth in the recent years has inevitably thrown up profound challenges to its fragile but remarkable and unique wildlife and the Ecosystem.
There are several sub projects that can be built into bio-reserve Park. To begin with we propose a project on Grassland ecology and a research field station. As part of the project:
Create a habitat with local species of grasses and medicinal plants to provide shelter, food and breeding areas for native birds such as Great Indian Bustard, Partridge, Lesser Florican, Sand Grouse and other birds. This safe wilderness will also give secure home to Indian Wolf, Chinkara antelope, Jungle cat and local medicinal plants and trees. All these animals are highly endangered as per International Union for conservation foundation-IUCN –Switzerland and are placed in the World red data book.
Organize talks and slide shows at the village schools to bring awareness and to educate the students and the local people about the importance of grassland management and their benefit to the community and the conservation value.
Conduct training sessions with NGO organizations to educate and inform cattle and sheep grazers about seasonal grazing and harvesting methods, preserving core zone for the re-generation of plant life and to protect the environment to provide the un-polluted communities around the villages.
Once initial project is in place, work should begin expanding the ambit of the bio-reserve to create:
An attractive ecological destination for the people of the State and the Country which is both educational and recreational to enjoy and respect the outdoor life.
Build ecological tourism and bird watching packages around the park.
Give the park international visibility by seeking affiliations with global ecological organizations for field and research work.
Park will act as a field station and the research place for fast vanishing birds, animals and reptiles of the grassland, bush savannah by creating a protected wildlife buffer zone away from the farming and industrial development.
Critical Ecology Assessment
As indicated in the satellite image taken of the grassland ecological habitat in the region, the pure grassy plains are reduced in significant size and are surrounded by cotton and agriculture field thus reducing the critical grassland habitat with rare and unique plant and wildlife species. As per the available information the highly productive and widely utilized "Zizhavo "Dicanthium Annulatum and 'Shaniyar" or Cehima salkatum grass species are only accounted for less than twenty percent and other low-grade grass species are invading, making the habitat as a waste and dry arid land.
The hardy but vanishing plant species such as Guggal (Commiphoro Wightii) Hermo Bawal (Acacia Leucophloea) and Khari Pilu or Jal (Salvadora Persica) have decreased in numbers in the recent past. Such plant and trees have significant medicinal values as suggested by the research done. The soil, rain and over all geography in this region is very well suited to such plant life which is now threatened with the invasion of GANDO BAWAL (Prosopis Juliflora) This hardy foreign plant species have destroyed much of the local and rare plants since Prosopis is very aggressive and pushes other busy plants from thriving. It is recommended that it should be removed completely from the grassland area since no wildlife thrives in the habitat that is dominated by this hardy invaded species.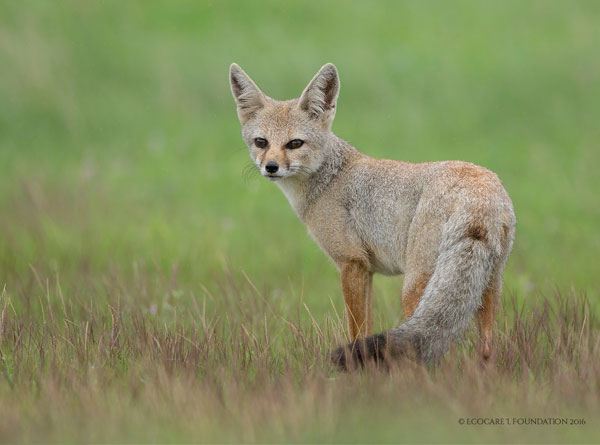 Indian Fox in a protected grassland habitat in monsoon.


Satellite map showing the grassland and farm land indicated by its color zoning. Grassland is almost wiped out from its original habitat as seen in the map.
Requirements
Land
Funds
Personnel
Infrastructure
Habitat management expertise
Land
This is the most crucial and important step in creating a bio-reserve park. We would require between 100 to 500 acres of wasteland or semi-arid grassland to get the project off the ground immediately. The land will be Utilize and develop by ECOCARE a not for profit trust overseen by people of unimpeachable personal integrity and high professional success. It is must that the land is within the geographical suitable habitat within the few hundred miles radius of the current Little Runn of Kutch and other flora and fauna of the region.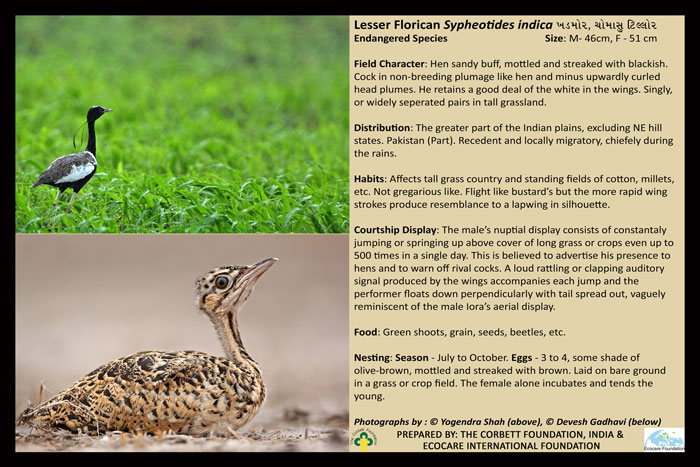 Lesser Florican which migrates into Surendranagar, Patdi and Kutch region in monsoon to breed have decreased in numbers due to habitat loss and hunting.
Fund
Initial capital is needed to develop the wasteland in to the pristine wildlife habitat for the next one to three years plan. Two broad funding mechanisms will be required for the project-Private and Government. In terms of private or individual funding, series of events are planned in India, USA. UK and early indications are that we are receiving excellent support. The detailed Budget outlined is attached here with.
Personnel
One bio-reserve field Guard -full time.
Five volunteers to do the activities of awareness and conservation.
One full time ranger/education officer to supervise park, infrastructure and protection.
Infrastructure
Field office cabin/hut at location. Mobile phone, IT, PC communication facilities.
Strong web presence, Remote video camera, One vehicle.
Orientation center for material display.
Two watch towers. Two wildlife observation point/hideout.
One camel safari van for visitors in the park.
Small cafeteria for tea /snack for visitors. Small drinking water and both room facility.
TV and presentation tools.
Library.
Wild water whole for wildlife in summer.
Habitat Management Expertise
We have identified conservation foundation to provide the habitat development expertise. They are Bombay Natural H. Society, World wildlife Fund, CEE –Kartikaya S. GEER Foundation of Government of Gujarat, Living Desert in California, USA. Some of the biologist has 30 plus years of expertise and have done detailed research work on the grassland ecology, its flora and fauna.
Conclusion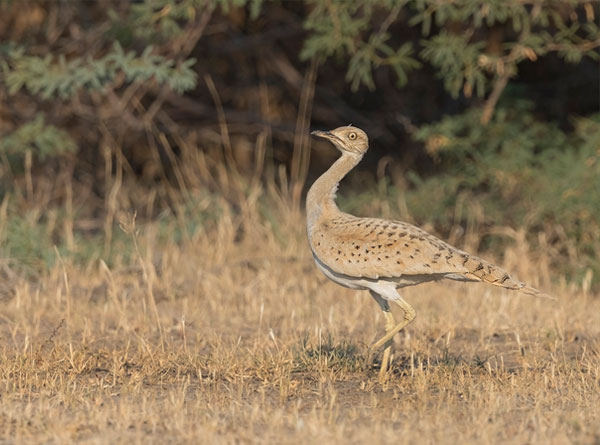 Macqueen's or Houbara bustard, a rare winter visitor in LRK region habitat.
It is our hope and mission to safeguard the rare and unique wilderness of the grassland of LRK by creating a safe and secure protected bio-Reserve. As time passes, we are losing the diversified ecological habitat and the unique habitat due to ever-expanding agricultural activities and industrialization to meet the needs and wants of increasing the human population whose priority comes first as always. We need your support and help to create a better World for all of us.